VODA worked with a multi-departmental working group from the University of Utah to develop a new approach to site planning and landscape research. Using an existing building and site, the team developed "Landscape Lab" which is an active research facility focused on green infrastructure.
Located at the Williams Building, Landscape Lab will be used to analyze the impacts of changes to more sustainable landscape design on natural and human systems. With Red Butte Creek running along the north side of the site, the Landscape Lab will provide research faculty and students a location to study impacts of landscape elements on animal and plant species, as well as track human interactions with natural systems.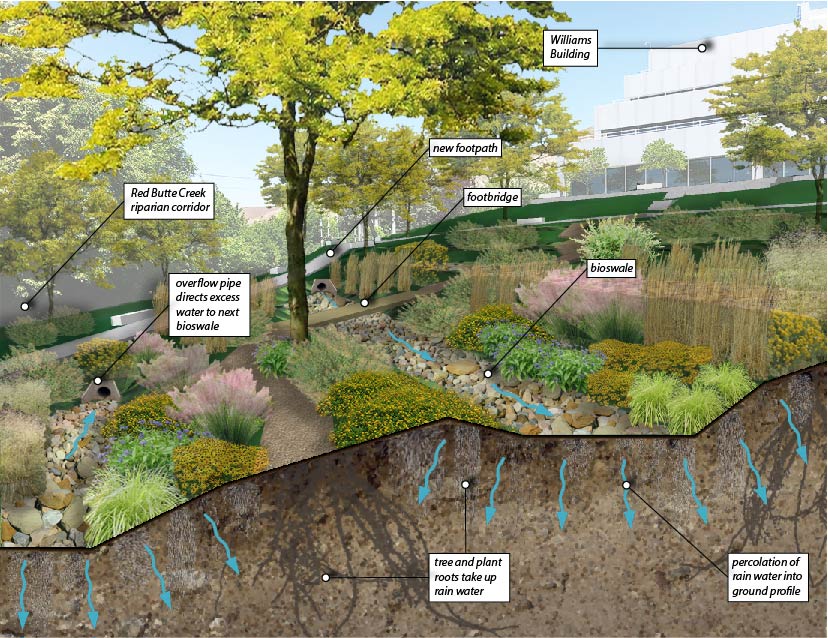 Working with a steering committee of researchers, faculty, and University staff, VODA created a long-range landscape master plan for the Williams Building in the heart of the University's Research Park. This project was crafted to be a prototype project for additional landscape updates throughout the University.
Under the guidance of the steering committee, VODA designed "Landscape Lab," an active landscape that is intended to become an outdoor educational facility for the University. Landscape Lab will provide a physical location for researchers and students to study the effects of landscape on physical and natural systems.
Currently, the Williams Building landscape is dominated by water-intensive turf grass and tree species. As one of the most water consumptive entities in the state, the University is changing its approach to how resources are used in order to become more sustainable. Landscape Lab will provide an experimental location to determine which elements of the landscape will prosper over time.
VODA took a systems approach to Landscape Lab. As part of the master plan, we divided up the various systems of the landscape to craft a design that would create long-term sustainability for the site, as well as allowing researchers the flexibility to study the effectiveness of each system.